Originally posted in February 2018, updated January 2019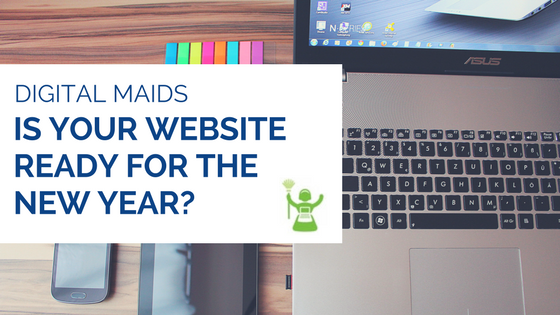 Updating Your Website for the New Year
For many small business owners, the new year is a time to finally take on a growing to-do list.  Have you found time to update your website and social media business pages for the new year?  If you have not done so already, take twenty minutes to perform the following updates listed below.   Making these small changes sends a clear signal to your website visitors that you are open for business.
Website
Update the copyright year
Typically located in the footer, this is a quick way to your online audience on EVERY page of your website that you are an active business.  Although some website themes may update copyright information automatically, it is important to confirm.
Related to the copyright…
Header and footer 
Perform a quick review of all links and content in the header and footer.  Header and footer content is critical because it is highly visible and often links to your social media networks and other pertinent contact information.  Be sure all links are working correctly and contact information is accurate.  
Contact form
Update your contact form to incorporate the new year.  "How can help we reach your goals in 2019?", for example, or "we look forward to working with you in 2019!".   Do you have a specific time of year that is busy? Relay this information to potential customers, and articulate how best they can arrange time to meet with you. 
Holiday Content
You know that house that still has a Christmas or holiday themed wreath still hanging on their front door? Don't be that house in the digital world.  Remove or update any holiday-related content or promotions, particularly on your homepage.  Consider replacing it with a show of appreciation – "thank you to all our customers for an amazing 2018." If you don't have time to draft fresh copy, repurpose existing content.  Your company history, for example, or a short summary your of your most popular products and services. 
Year in Review
Highlight your most important blogs or images of the past year with a simple Year in Review page.  This not only saves your visitors some searching but also presents a great summary of your business.  If your website is powered by WordPress, try using a photo gallery plugin to showcase images that represent the entire year.
Social Media Networks
If you do not have time to post new content to your social media channels, take a quick scan of the most prominent areas on your social pages and give them updates.  This includes:
Update any pinned posts and call to action buttons

Update any profile or cover photos that have a holiday theme


Review of your automated replies

Review of your website links, particularly for Instagram and Twitter bios.  Instagram and Twitter only give you one link, make the most of it!
Create a story on Instagram or Facebook with highlights of the previous year.  Then add to your profile to give it a longer shelf life.
Even if they're not done perfectly, completing the above tasks sends the right message to your customers and prospects.  That you are present and open for business!
Tip – Save any holiday images for repurposing