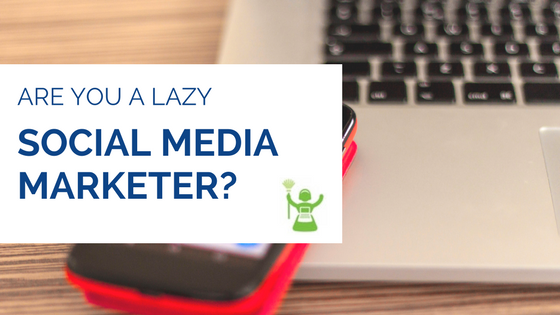 Create better content by kicking these 5 lazy Social Media habits
The amount of online content is crushing all of us, particularly on social media.  On Facebook alone, 510,000 comments are posted, 293,000 statuses are updated, and 136,000 photos are uploaded every 60 seconds.  This explosion of content impacts both the businesses using social media for marketing as well as the users they are hoping to reach.
If you are a content marketer or small business owner managing your own social media pages, it can be tempting to take a few shortcuts in the hopes getting your content out ahead of the pack.  However, not all shortcuts are created equal.  Resist the urge to sacrifice quality!  Just like you, your customers have only 24 hours in their day.  Don't clog their social media feeds with subpar content.   Reward their attention and time by giving them your best.  To up the quality of your content and overall social media presence, avoid falling into these 5 common lazy social media habits.
Retweet without reading
According to a recent study, 6 out of 10 social media users share links without reading them.  Yikes!  How can you expect to be influential if you don't know what you have shared beyond the title?  Some organizations are considering ways to combat this type of thoughtless sharing.  For example, Facebook is currently looking into letting users know how widely a link has been read when it is shared.  If you're going to share, first read the article, and even better, offer your Followers value in the form of adding your key takeaway or insight.
Not formatting images
The optimal image dimensions for posts in Facebook's newsfeed differ from Instagram or Twitter.  In fact, each social media network has its own recommended height and width for sharing images.  Take the time to format your images accordingly.  Apps such as Canva and PicMonkey will help simplify the process.  Ditto for copy and captions.  A caption crafted for maximum Facebook exposure probably won't play well on Twitter. Take the time to write in the style best suited to the platform your Follower are using.
All thumbs up and hearts, no comments
Yes, liking other users post is an important component of engagement and building your online community, but go the extra mile or keyboard stroke and comment or react.  What about the image or post initially grabbed your attention?  It is also worth noting that Facebook now ranks reactions higher, which impacts your Insights.  So let other users feel your engagement.  With persistence, what goes around comes around! 
Auto sharing
You know those Twitter accounts that simply automatically share all of their Facebook status updates?  Do you read them?  Chances are, no one is reading yours either.  Creating and posting all of your content for one social media channel and then auto sharing it to all of your other networks should not be your sole strategy.   In some ways, it's not respecting the other networks and its users.  A social media scheduler such at Hootesuite or HubSpot can help you create and schedule unique posts tailored for each of your networks.
All media, no social
Social media is two words.  Many businesses focus so much on the media, they forget the social piece.  When you receive a lot of comments on your Instagram post, do you take the time to respond or acknowledge? Not every post has to be an overt promotional sell.  Take the time to share gratitude, a personal side, or humor.   Ultimately, the attentiveness that is required to be successful in real life social situation holds true for thriving in social media.   
Like all forms of marketing, social media works best when you heed even the smallest of details.